The Tool Kit page will become a resource center for all of us, as we move through the series of Zoom meetings with links to helpful videos, handouts, quotes, and more. If you have something share with all of us or to join our group, please send us an email at: info@harmonycollege.net
NEXT ZOOM MEETING -- December 3rd, 6:00pm PST
If possible, review the videos available on "How to Grow Your Chapter" playlist. If your time is limited, try to watch (and enjoy) at least classes #5 and #6.

Come to the Zoom meeting ready to hear what's happening in choruses who have been following the BIG IDEA!

Take notes on what you and your chorus can do during the holidays to gather guests from the audiences you sing for.

Ask your chorus members to join you (and us) for this Zoom meeting.
COMING ZOOM MEETING DATES
December 3* – 6:00pm PST
(wrap-up and prepare for the January 7th meeting)
January 7 – 6:00pm PST 
(start of the series "How To Grow – Musically)
The six classes in this series are available to watch at any time.  We suggest watching them in order.
This playlist includes the early classes and meetings as the BIG IDEA project was launched in the summer of 2023.
This playlist includes the ZOOM meetings where Paul Ellinger and Greg Kronlund have led group discussions on the How to Grow Your Chapter classes.
Starting in January, 2023.  Twelve classes dealing with the musicality of your chorus with topics like: Wavebox Singing, Vocal Concepts, Performance Sphere, Artistry, Stage Fright, and Branding Your Mountain.
More Ideas for the holidays
Instead of one show – plan a show that can be taken to several non-profits or care facilities.
Hold regular "Friends & Family" nights (every other month) at rehearsal time. Invite anyone to come and see how much fun your chorus is having. Make it a performance opportunity – perhaps wearing a casual chorus costume.  Even have drawings for prizes.
Go out and do "sing-a-longs" — get people singing!!!
Financial: One chapter applied and received a grant, based on a promise to do 3 free performances.
Get your chapter excited about searching for guests.
just get out and sing anywhere you can, even 2 songs
Tags are effective: short, sound great, and doable
Take the time to reach out – and even ask people to sing with you
Build your own 30-second holiday elevator speech — know what you're going to say before you say it! Be real and be inviting.
Candlelight caroling
Add a "visitation" night into your rehearsal schedule.
Carol Lyrics for the Holidays
This list was gathered for our holiday sing-a-longs this year.  You can pick ones that you'd like to include in your own collection. There are also some good websites to go to for lyrics, here's one that gives also a little history of the songs.
https://www.christmasmusicsongs.com/index.html
Donny Rose video on
 "How to Use Learning Tracks"
YOUTUBE
There are six class videos covering topics on How to Grow Your Chapter.  Each is about 30-minutes in length and stored in our YOUTUBE channel.  The classes are packed with examples and good ideas to help your chapter/chorus grow. Here's a mini-overview on the content of each class.
Part 1:  How to bring people into your chapter to enjoy the music and singing.  There's a wide spectrum of singers who just might enjoy your chorus.
Part 2: How to become "viral"… in other words, let's become enjoyable, inviting and approachable so that people will want to know more about our chapters.
Part 3: Keeping your chorus culture full of fun, friendships and singing. Secret sauce: have an altruistic purpose – find a bigger reason to sing together! 
Part 4: Become a "guest magnet" — attract people like a street magician by giving potential new members an easy "on ramp" to success.
Part 5: Successful follow-up tips. Remember, YOU are just giving people an opportunity to do something very amazing for themselves. 
Part 6: Rebooting our chorus culture and purpose. Determine your top priorities and then prioritize your time accordingly. If growth is most important, then give it a fair amount of your energy in and out of rehearsals.
Examples: Why do we need to change our perspective?
This interview saved on YouTube is with Linda Ronstadt talking about the importance of singing in our lives – no matter what things get in the way.
We Sing so they may speak! This Ontario District video shows vividly how we can help others by reaching out.
BALLROOM DANCING
These tow videos compare two approaches to attract new dancers.  Both companies offer clear goals and expectations.  
What is your chapter's approach: weekly – 3 hrs each time – for the rest of your life! Maybe we need to look at new ways to define what we love.
Marshmallow Challenge
Watch this video on how the marshmallow challenge demonstrates the need for teamwork.  It is so easy to just find a leader willing to lead and let them do it for 50 years…. but we need to build leaders and teams for success to keep our chapters and choruses alive and full of energy.
Why did this video go viral? 
"Old Men Singing at Tim Horton's?"   Watch class videos #1 and #2 in the "How To Grow Your Chapter" playlist.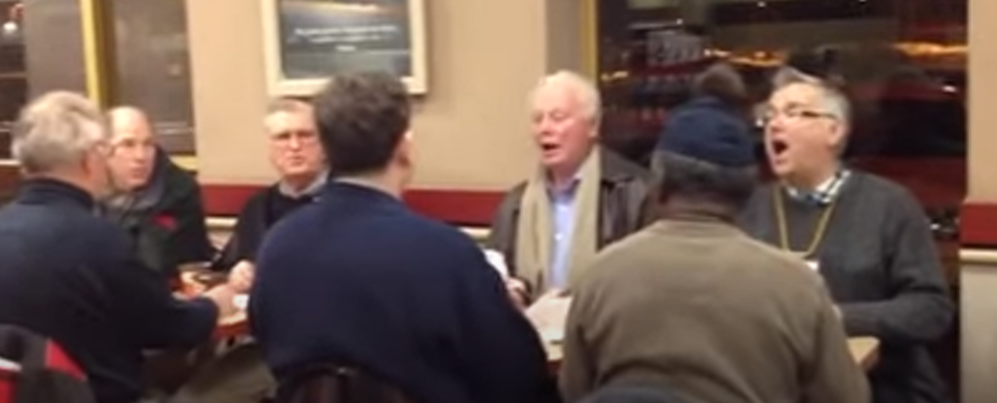 Click on photo to view the video.